Virtual Event
May 11 @ 10:00 am

-

12:00 pm

Virtual Event

Cost: $10.00

NOW VIA WEBINAR
AGE MY WAY
Thursday, March 23, 2023
10:00 a.m. to 11:30 a.m.
Cost: $10
*1.5 hrs. Nursing Continuing Professional Development (NCPD) Credits Available
&
**1.5 hrs. Social Work Continuing Education
Credits Available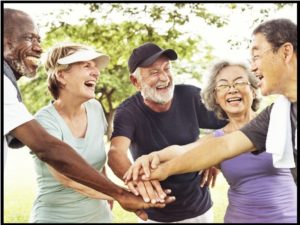 This program is funded by a grant from the York County Community Foundation Embracing Aging Fund

THE LINK TO THE WEBINAR WILL BE SENT TO YOU WITHIN
48 HOURS, & TWO DAYS BEFORE THE WEBINAR AS REMINDERS
(Always check your Spam folder as well for the email to the webinar link)
Description: This training will focus on 4 key areas of health in aging: physical wellness, social wellness, cognitive wellness and emotional wellness. We will look at changes that come with older adulthood and ways to maintain health in these areas, or start and develop new lifestyle habits to support them. We will discuss the impact of ageism in our culture and dispel some myths of aging that it brings, opening the door for confidence to Age My Way!
Objectives:
Identify 4 key areas of health in aging and ways to start or maintain health habits.

Discuss social barriers to engaging health as we age, and ways to reduce their impacts.
*NCPDs
Attendance of this activity can earn 1.5 nursing contact hour through Penn State Ross and Carol Nese College of Nursing. To receive 1.5 nursing contact hour, you must attend the full program and complete the evaluation provided at the end of the program. ´Penn State Ross and Carol Nese College of Nursing is approved with distinction as a provider of nursing continuing professional development by the Pennsylvania State Nurses Association, and an accredited approver by the American Nurses Credentialing Center's Commission and Accreditation.
**CEUs
"NASW-PA Chapter will be a co-sponsor of this workshop. 1.5 CEs will be awarded for completion of this course. NASW has been designated as a pre-approved provider of professional continuing education for social workers (Section 47.36), Marriage and Family Therapist (Section 48.36) and Professional Counselors (Section 49.36) by the PA State Board of Social Workers, Marriage & Family Therapists and Professional Counselors."
Facilitator: 
Erin Edwards is a Board Certified Behavior Analysts, with a Masters in Psychology. Erin currently works for Penn State College of Medicine/ Hershey Medical Center with the Division of Autism within the Department of Psychiatry.  Erin and PennCares Support Services have worked together for many years developing trainings encompassing older adults and issues surrounding behavioral health. Erin has worked with children with autism and other mental health diagnoses across a variety of services, including specialized schooling, home and community BHRS services, intensive family based mental health services and currently outpatient services. Erin has also worked with adults, in community, home and work settings, with autism and co-morbid mood and mental health diagnoses, as well as hoarding behaviors and anxiety, depression and matters surrounding suicide.  In supervisory positions, Erin has provided a large variety of trainings to direct care staff with a focus on practical interventions strategies and reducing frustration or fatigue in caregiver positions.
PennCares Cancellation Policy
PennCares Support Services reserves the right to cancel an event due to low enrollment or other circumstances which would make the event non-viable.
PennCares reserves the right to substitute course instructors as necessary.
If PennCares cancels an event, registrants will be offered a full refund.
Postponement: Should circumstances arise that result in the postponement of an event, registrants will have the option to either receive a full refund or transfer registration to the same event at the new, future date.
Substitutions and Transfers: We understand that circumstances may occur to prevent you from attending a training. If you find that you are unable to attend one of PennCares' trainings, you have several options:
Send a substitute: Substitutions are accepted as long as a written request is received. Substitutions may be made without penalty provided the original registrant contacts PennCares at trainings@penncares.org to request this change.
Transfer to another course: Transfers are accepted up to the day of the event as long as a written request is received. In the event the registrant cannot attend a scheduled course for which he or she is enrolled, registration can be transferred to another course.
Refund of monies: Requests for refunds must be made in writing and received by the training refund deadline stated on the training registration form. (See below for cancellation policy).
Registration Cancellation by Participant
Unless specifically stated on registration materials, the deadline to request a refund for your registration is 5 business days before the event.
Registration cancellations requested prior to the deadline will be eligible to receive a refund less a 5% administration fee. *
Cancellations received less than 5 business days before the event will not be eligible for a refund and will be billed for the total cost.
Registered no-shows are not eligible for a refund and will be billed the total cost.
Cancellations will be accepted via e-mail to trainings@penncares.org and must be received by the stated cancellation deadline.
All refund requests must be made by the attendee/payee.
Refund requests must include the name of the attendee, the training date, and payment method.
These above policies apply to all PennCares trainings unless otherwise noted in the corresponding event materials. Please read all individual event information thoroughly.